The advantages of LITAI plastic cup thermoforming machine are full servo drive, no noise, no vibration, good thermoforming, fast speed, compact structure, small footprint, adaptable to various materials, and the product is 8% thicker than general machine products, etc. Today, we share with you the features of the TQC series plastic cup thermoforming machines supplied.
Sheet loader
1.Load automatically, lower human resource cost;
2.Sheet conveying positively, lower the load of conveying servo motor;
3.Proximity Switch clever control, getting the rid of falling down of the sheet by conveying too fast;
4.Double stations, big diameter, reduce the frequency of changing sheet coil, improve the the production efficiency.
5.Sheet feeder with a swing rod,good look and clever control.
Conveying part
1.The guide rail of Aluminum is full of cooled water can cool the heated sheet efficiently leads to stable conveying.
2.Toothed chain with specialized degrees makes puncturing much easier, with specialized material- 65Mn makes it stronger and more durable.
3.Driven by servo motor, accurate and efficient.
4.Adjustable chain , which is suitable for a wider range of sheet widths and solves the problem of sheet sagging caused by heating.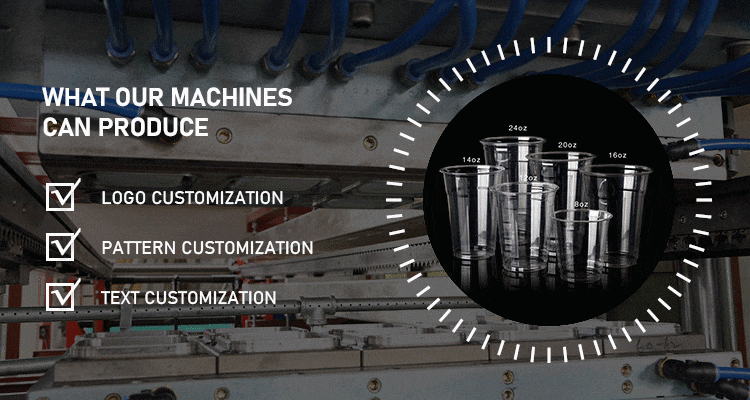 Heating part
1.Adopt Chinese top brand Tianbao heating tile, excellent insulation performance and heating efficiency, which results in saving time and energy. . Based on this, the actual power consumption is about 60% of the rated power, it's awesome and amazing.
2.The stove has almost 7 times the width of the forming area, so that the sheet can go through a longer distance in a certain plasticizing time, to improve the speed so that to improve the output.
3.Divided by two layers of the stove with optimized heating tile layout, makes the sheet heated fully and evenly.
4.The whole stove is divided into multi separate temperature control units, the accuracy is controllable at 1 degree Cels to ensure that the sheet of each product is perfectly plasticized.
Forming station
1.Adopt the structure of four-pillars(40Cr steel) for supporting and uni-body mould plates (TQ-600 steel) for guiding, which make our forming station more stronger and stable, shock absorption and wear resisting.
2.The forming part is driven by hydraulic system, super power which is reliable and steady. Using proximity switch to control the precision of the excellent mould positioning.
3.The parallelism misalignment between guide plate is less than 0.05mm, and for mould, less than 0.03mm, much lower than the industry average value. so our forming product size will be more precision, bottom will be more perfect.
4.The fixed upper and lower guide plates, as well as the excellent parallel and flexible middle guide plates, have high material hardness, good wear resistance and strong corrosion resistance, ensuring the smooth operation and durability of the machine.
5.The hydraulic drive structure of cross-link adopts wear resisting steel bushing, bears more weight, rotates more precise. And the symmetrical swing ensures the parallelism of machine running, to avoid four pillars transverse abrasion, and make the machine more long-life.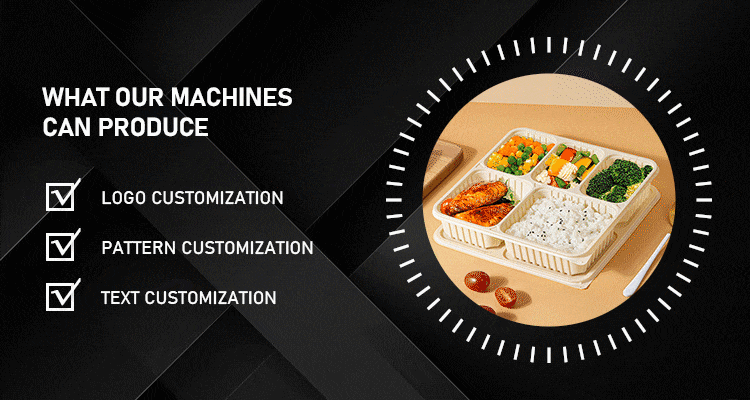 6.Integrated hydraulic station with buffer function, high power, enough force, small vibration, good control , super stability and easy maintenance.
7.The intelligent lubrication system can lubricate by a certain amount and time, which can make the machine longevity and sustainability.
8.The mould cavity has the cooling water inside, which expedites the cooling speed and the bottom is equipped an ejector rod which makes the products easy to demould.
9.The working theory is a combination of positive pressure with assisting stretching in mould by some nylon plugs, which makes it have more powerful ability of making products .
10.Stretching by servo motor , super precision, high efficiency
11.Individually replaceable blades with high-quality material that are affordable, flexible, and durable.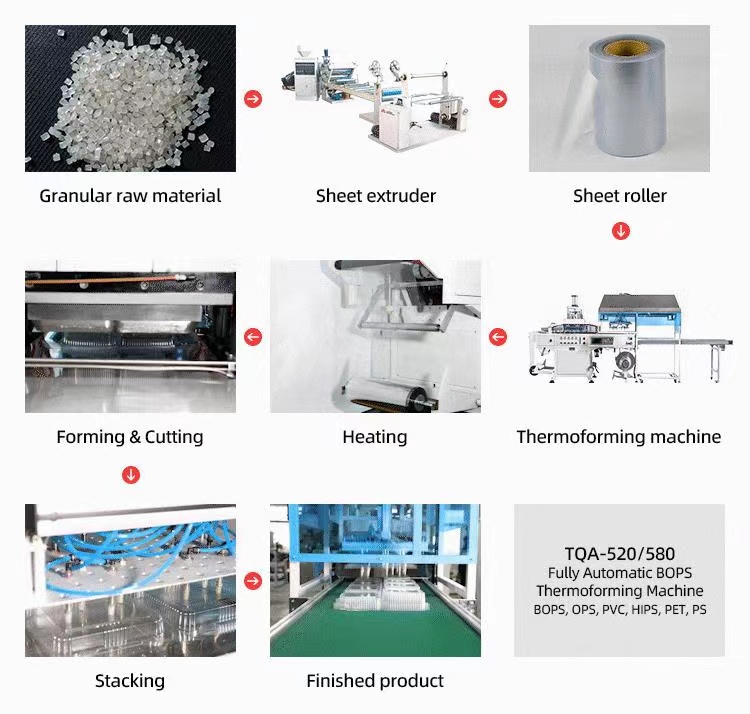 Touch screen PLC
1.Friendly interactive interface,it is easy to operate
2.Large memory, to meet the requirements of huge product data storage.
3.The product data is stored and read through one key function, easy operation.
4.The movable touch screen makes the operation flexible and convenient、
5.High integration, data visualization, easy to control.
TQC series plastic cup thermoforming machine exporter - LITAI
LITAI MACHINERY CO, LTD. gets a lot of invention patents and utility model patents for our products, and our machines have passed CE and ISO 9001:2000 certification. Meaniwhile, there are more than 80 countries and regions cooperating customer with us, such as USA, south Korea Turkey, Canada Russia, Kuwait, Iran, Brazil,Chile, Bolivia, Saudi Arabia, Yemen, Peru, etc. We insist in "customer goes first, sincere service" as enterprise service purpose, and welcome the cooperation and guidance from old and new customers.