LITAI newly launched the TQC-750 automatic servo plastic cup thermoforming machine, which has a series of advantages and more stable performance, attracting more and more people.
The biggest advantage of this plastic thermoforming machine is its high degree of automation. The machine can automatically complete the whole process of feeding, heating, forming and cutting. And only one operator is required to monitor the whole process, which greatly saves labor costs. In addition, as an energy-saving and environment-friendly machine, it also has the advantages of high production capacity, precise molding and consistent effect.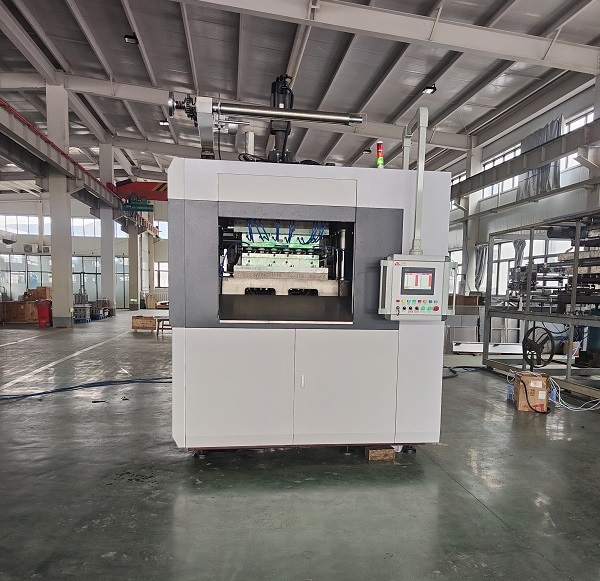 What is an automatic servo plastic cup thermoforming machine?
An automatic servo plastic cup thermoforming machine is a specialized type of plastic forming machine that uses heated molds to form Thermoformed plastics into cups. Servo motors are used to control the movement of the molds and the heating elements, so that the cups can be formed with precision and consistency. Automatic servo plastic cup thermoforming machines typically have a higher production capacity than manual or semi-automatic machines, making them ideal for mass production.
Thermoformed plastics are made from thermoplastic materials, which can be molded and shaped using heat. The most common type of thermoplastic used in cup thermoforming is polystyrene (PS), although other materials such as polyethylene terephthalate (PET) and acrylonitrile butadiene styrene (ABS) can also be used. PS is a lightweight material that is easy to mold and shape, making it ideal for use in disposable cups.

Cup thermoforming machines use molds to give shape to the cups. The molds are heated to high temperatures, so that they can easily mold the plastic material. The heating elements are controlled by servo motors, which allow for precise temperature control and consistent results. Cup thermoforming machines typically have two or more molds, so that multiple cups can be produced simultaneously.
The advantages of automatic servo plastic cup thermoforming machines include their high production capacity, precision molding, and consistent results.
Advantages of automatic servo plastic cup thermoforming machine
1. Automatic servo plastic cup thermoforming machine can improve production efficiency and save labor cost.
2. It can ensure the consistent quality of products and reduce the waste of materials.
3. The whole process is controlled by computer, which makes it easy to operate and saves time.
4. It has a wide range of applications and can be used for producing various kinds of plastic cups.
LITAI MACHINERY CO, LTD is founded in 2001. For more than 20 years, our enterprise mission is to realize producing automatic plastic packaging machines. Our thermoforming machines are of high quality. Welcome to inquire, we will provide you with the best quality product consulting services!